COPYRIGHT LINDAHOODSIGMONTRUTHCONTD.COM MAY, 2009 – 2023 ALL RIGHTS RESERVED. THIS COPYRIGHT COVERS ALL OF MY ORIGINAL MATERIAL CONTAINED ON EVERY PAGE OF THIS WEBSITE.
Please visit my YouTube channel:
<<<<<<<<<<>>>>>>>>>>
TUESDAY, AUGUST 1, 2023
My compliments and thanks to Emiel for his work in always making his monthly news reports about all things Elvis.
< <<<<<<<<<>>>>>>>>>>
WEDNESDAY, AUGUST 2, 2023
Below is another article about the documentary "Reinventing Elvis: The '68  Comeback' Trailer.  I feel sure that this show will definitely be worth viewing.
'Reinventing Elvis: The '68 Comeback' Trailer: New Paramount+ Documentary Chronicles Elvis' Unforgettable Return
Paramount+ revealed the trailer for its upcoming documentary Reinventing Elvis: The '68 Comeback which chronicles Elvis' return to music after his stint in Hollywood.
The documentary, directed by John Scheinfeld, is narrated by Emmy award-winning television director Steve Binder, who directed the landmark television event on NBC. Reinventing Elvis features interviews with Elvis experts and those that were in attendance for what would become the most-watched television event of the year.
Reinventing Elvis: The '68 Comeback will premiere exclusively on Paramount+ Tuesday, August 15 in the U.S. and Canada, and internationally on Wednesday, August 16 in the U.K., Latin America, Brazil, France, Germany, Switzerland, Austria, and Italy. Additionally, for a limited time, the film will screen in hundreds of movie theaters worldwide.  Reinventing Elvis: The '68 Comeback is produced by Spencer Proffer's Meteor 17 with Binder and Bruce Gillmer serving as executive producers.
'Reinventing Elvis: The '68 Comeback' Trailer: New Paramount+ Documentary Chronicles Elvis' Unforgettable Return
<<<<<<<<<<>>>>>>>>>>
Below are the front and back cover images from a new book that I bought several weeks ago.  I have not begun reading it just yet because I am in the middle of another very good Elvis book.  This is a newly released book and therefore I wanted to share it with my visitors.  It looks very intriguing to me because I have always loved getting to understand Elvis' spiritual search.
<<<<<<<<<<>>>>>>>>>>
SENT TO JESSE THRU THIS POINT
ON THURSDAY, AUGUST 3RD, 2023
<<<<<<<<<<>>>>>>>>>>
THURSDAY, AUGUST 3, 2023
Good news to share!!  Jesse called me late this afternoon.  He is feeling much better now that he has gotten a change in his medication which has helped him immensely.  He sounded wonderful.  We had a good phone visit which meant the world to me as always.  
<<<<<<<<<<>>>>>>>>>>
MONDAY, AUGUST 7, 2023
Below is an article which I hope will be of interest to some of my visitors.  I must admit that this is over my head as I am not very savvy about new tech things coming out.  But I always love to see Elvis being included in new ways.
Elvis Presley NFT Avatars Set to Launch in Ethereum Game, The Sandbox
The Sandbox, a popular blockchain-based virtual world game, has announced a partnership with Elvis Presley Enterprises to create and sell digital representations of the King of Rock and Roll as non-fungible tokens (NFTs). According to a press release, the collaboration will allow players to purchase and use Elvis-themed NFT avatars, wearables, and assets in The Sandbox metaverse. The NFTs will be based on iconic images and outfits of Elvis from different stages of his career, such as his 1956 debut album cover, his 1968 comeback special, and his Aloha from Hawaii concert.
NFTs, or non-fungible tokens, are unique digital assets that can represent anything from art and music to games and collectibles. They are stored on a blockchain, which ensures their authenticity and scarcity. NFTs have exploded in popularity in recent years, as more creators and collectors seek to monetize and showcase their digital creations.
One of the most exciting applications of NFTs is the creation of avatars, or digital representations of oneself. Avatars can be used to express one's personality, style, and preferences in various online platforms and metaverses. They can also serve as a form of social currency, as owning a rare or desirable avatar can boost one's status and influence in the digital world.
However, creating and owning an avatar is not as simple as uploading a picture or choosing a preset. There are many factors to consider, such as the quality, originality, and value of the avatar, as well as the legal and ethical implications of using someone else's likeness or intellectual property. Moreover, there are different types of NFT avatars, each with its own advantages and disadvantages.
The Sandbox is a decentralized gaming platform that allows users to create, own, and monetize their own voxel-based experiences using the native SAND token and NFTs. The game has attracted over 40 partners and IPs, including Atari, Smurfs, Care Bears, Deadmau5, and now Elvis Presley.
Some of the other notable partners that have joined The Sandbox are:
The Walking Dead: The popular zombie apocalypse franchise will bring its characters, locations, and items to The Sandbox as NFTs.
Snoop Dogg: The rap legend will have his own virtual mansion in The Sandbox, where fans can visit and interact with him and his NFT collection.
Richie Hawtin: The techno pioneer will create an immersive musical experience in The Sandbox, featuring his Plastikman persona and NFTs.
Binance: The leading cryptocurrency exchange will have its own virtual space in The Sandbox, where users can learn about crypto and blockchain.
Sebastien Borget, COO and Co-Founder of The Sandbox, said: "We are thrilled to partner with Elvis Presley Enterprises to bring the King of Rock and Roll to The Sandbox metaverse. This is a great opportunity for fans to celebrate and honor the legacy of Elvis Presley in a new and innovative way, as well as to introduce him to a new generation of gamers and creators."
Marc Rosen, Executive Vice President of Entertainment at Authentic Brands Group (ABG), which owns Elvis Presley Enterprises, said: "Elvis was a visionary who constantly pushed the boundaries of music, film and entertainment. We are excited to continue his legacy of innovation by launching his first-ever NFT collection in The Sandbox. This will allow fans around the world to connect with Elvis in a whole new way and experience him like never before in an immersive and interactive virtual world."
The Elvis Presley NFT collection will be available for purchase on The Sandbox's marketplace later this year. The exact date and price of the NFTs have not been revealed yet.
https://www.tekedia.com/elvis-presley-nft-avatars-set-to-launch-in-ethereum-game-the-sandbox/
<<<<<<<<<<>>>>>>>>>>
WEDNESDAY, AUGUST 9, 2023
My good friend Dennis Miller shared the below beautiful photo of Elvis with me.  I don't recall seeing this one before and thought my visitors would enjoy it also.  Can't have too much Elvis, now can we?!
<<<<<<<<<<>>>>>>>>>>
Wow!!!  Another year has gone and it is time for Elvis Week already.  For those of us, like myself, who aren't able to be there in person, below is the announcement from Graceland offering the opportunity to view from our homes.
Special guests, ultimate contests, incredible fan experiences, virtual tours, and more!
We are pulling out all the stops for Virtual Elvis Week 2023, with concerts and events at the Graceland Soundstage live-streamed in pristine HD with soundboard audio! And, to enhance your experience, we are expanding the viewing time! All shows included in each pass are available from the time they premiere and can be re-watched on demand for 10 days following the show.
ELVIS WEEK 2023 SCHEDULE OF EVENTS
Our Elvis Week 2023 schedule offers a large variety of both new and fan-favorite events! Join us as we celebrate the 50th anniversary of Elvis' Aloha from Hawaii television special and the 55th anniversary of Elvis' '68 Comeback Special. Enjoy a lineup of concerts, conversations, tributes, and more – all honoring the man, the star, the icon – the King of Rock 'n' Roll.
2023 highlights include the August 16 Aloha from Hawaii 50th Anniversary Concert featuring Elvis on the big screen backed by a live band; '68 Special Enhanced Screening with Elvis bigger than life in black leather; the annual Ultimate Elvis Tribute Artist Contest and performances by many of EPE's past Ultimate winners; Conversations on Elvis, with those who knew Elvis best sharing memories and stories; and the cornerstone event of the week, the annual Candlelight Vigil on August 15 where fans gather in quiet remembrance of the king.
Tickets for Elvis Week 2023 are now on sale!
https://www.graceland.com/elvis-week-schedule-of-events
<<<<<<<<<<>>>>>>>>>>
Another favorite Elvis and Jesse match of mine.  This isn't brand new as I have shared it before…but just want to jog everyone's memory of the truth that I am privileged to share here with Jesse's permission which he gave me many years ago.  I am truly so very blessed.
Please bear in mind that he had a small about of plastic surgery done after he left in 1977 to lessen the chance of being recognized.  As he said to me "I didn't have that much done."
<<<<<<<<<<>>>>>>>>>>
SENT TO JESSE THRU THIS POINT
ON THURSDAY, AUGUST 10, 2023
<<<<<<<<<<>>>>>>>>>>
FRIDAY, AUGUST 11, 2023
There is a new listing of Jesse's book on eBay with a starting bid of only $5.99.  This is a golden opportunity for anyone who has been looking for a good price on this priceless book.  Below is a captured image of this listing along with the link to reach it on eBay.  Happy bidding!
https://www.ebay.com/itm/305066282525?
<<<<<<<<<<>>>>>>>>>>
Below is the story which should have been depicted in the Agent Elvis series on Netflix had the producers not turned it into their trash with
obscene language
and vulgar portrayals of Scatter.   Shame on those creators who shall remain nameless here on my site.
<<<<<<<<<<>>>>>>>>>>
SUNDAY, AUGUST 13, 2023
I enjoyed the below article about the Aloha special.  Please do excuse some of the language…the intent was good.
Lord Almighty! Elvis Presley Aloha from Hawaii via Satellite Deluxe Edition
The Once And Future King
Much as one might argue that all those sixties Elvis movies, whether he was playing a racing driver, a water skiing instructor, or even a fisherman, were great sport, there's no denying that the famous 1968 NBC television special – the one where he's in the leather gear – was a creative rebirth for The King after the soundtrack years. While I, and others like me, might profess a fondness for 'There's No Room To Rhumba In A Sports Car' or "Fort Lauderdale Chamber Of Commerce', 'If I Can Dream' clearly blows them out of the water.
After the special, Elvis made some of his greatest records – From Elvis In Memphis, Elvis Country (I'm 10,000 Years Old) – and started touring again, including a residency at the International Hotel in Las Vegas and you can press play on That's The Way It Is if you want to see just how great Vegas Elvis was, in the early seventies at least.
The TCB (Taking Care Of Business) band he built around himself was a thing of wonder altogether, further expanded by the addition of The Sweet Inspirations and The Imperials on backing vocals and Joe Guercio's thirty-piece orchestra. This really was dinner and a show.
Elvis was back on fire although this wasn't much use to fans outside of the USA. Thanks to Colonel Tom Parker and his allegedly dubious residency status, the King was never going to tour Asia or Europe or anywhere else outside of the fifty states. On the other hand, The Colonel was never going to miss out on a chance to make a few bob. Accordingly, and apparently inspired by Nixon's visit to China in 1972, Parker announced the Aloha From Hawaii television special event that same year, scheduled to take place in January 1973.
Long before Live Aid's global Jukebox, Elvis and Aloha From Hawaii were broadcast live by satellite across the Southern Hemisphere and it was also shown, albeit with a slight delay, in Europe. The US had to wait as the Superbowl annoyingly got in the way. The King was never going to turn up in their local concert hall so this was as close as most fans were going to get.
The original double album taken from the show was Elvis' last number one on the billboard charts and it is, presented again in remastered and reupholstered form, suitably spectacular. That crack band from the Vegas rebirth are on fire with special mention going to the stinging Telecaster of James Burton and the big hippie head on Ronnie Tutt behind the kit, beating the bejaysus out of his double bass drums.
Everything here is marvellous and so far over the top it's nearly coming back down the other side. The man from Memphis rocks like bastard through 'Burning Love' and 'Steamroller Blues', sings his balls off on 'You Gave Me A Mountain' and 'Love Me', possibly impregnates the front row during the breakdown in 'Suspicious Minds' and goes positively supernova with 'An American Trilogy'. If God were to sing with a covers band on the weekend for beer money and kicks then surely this is the sound that would come out of his/her/its mouth.
Sony have pushed the boat all the way out with a second cd capturing the full dress rehearsal from two days before, a third disk containing multiple takes of the extra songs included on the original US release and a Blu-ray showing the concert in all its sweaty, kung fu kicking, jump-suited, lei-sporting, ridiculously handsome glory. And handsome is probably too small a word to use here because Elvis Presley was so good looking that you'd wonder if he was of the same species as the rest of us at all. Has there ever been another human being who could carry off a white, rhinestoned jumpsuit with such casual panache? No, there hasn't. Harry Styles my arse.
John Lennon once said that Elvis died the day he went into the army. Aloha proves that Dr Winston O'Boogie was, on that occasion at least, talking out of his trousers. Elvis was, is, and always will be the greatest.
https://www.hotpress.com/music/lord-almighty-elvis-presley-aloha-from-hawaii-via-satellite-deluxe-edition-22983736
<<<<<<<<<<>>>>>>>>>>
MONDAY,  AUGUST 14, 2023
I really enjoyed reading this article about DJ Argo of Elvis Radio.  I haven't known very much about him until reading this.  He does have a dream job in the studio at Graceland.
Spinning Elvis songs on the radio a labor of love for DJ Argo
Derrill Argo already thought he had the coolest job in the world being on the radio in Memphis. But when a friend told him about Elvis Radio, a new satellite radio channel devoted to playing all things Elvis Presley 24-7, he knew he had to be a part of it.
"I worked in Memphis radio for about 10 years," Argo said. "I was with FM 100 and worked at a station called 94.1 FM "the Buzz." Around 2005, a friend who still works at Elvis Radio, told me about it and I was like, 'no, you're kidding me?' Then, I found out it was a real thing. At the time, satellite radio was still pretty new. I just loved the fact that Elvis had a channel."
The Memphis native, who lives in Hernando with his wife and three children, has been program director at Elvis Radio now for the past 18 years.
Every day he comes to the studio at Graceland is an adventure because he never knows who he will bump into. He was there in June 2006 when President George W. Bush dropped by Graceland to tour Elvis's home with Japanese Prime Minister Junichiro Koizumi, who is a huge Elvis fan. Then there are days when celebrities come by to tour Graceland unannounced like Foo Fighters founder and lead singer Dave Grohl, or actress Kirsten Dunst.
"A lot of times celebrities will come on by and not announce they are there," Argo said. "We'll see them and try to get them in the studio, or someone from Graceland will bring them in. You just never know on any given day who you are going to run into at Graceland."
Argo said Elvis Week, which is held every August at Graceland to commemorate the passing of the King of Rock 'n' Roll, is an especially fun time to be at Graceland. Fans from all over the world come to Memphis to celebrate the life of Elvis. He said it's an event like no other, where people come away making life-long friends.
"Elvis Week is huge," Argo said. "It was started by the fans the year after Elvis died. They gathered with candles at the gates of Graceland. Now it is over 10 days of concerts, conversations, movies, and dance parties. We describe it on the radio often as it's like a family reunion."
Argo said he gets the extra benefit of being able to interview all of the many celebrity guests who show up like songwriter Mac Davis, to personal friends of Elvis like Jerry Schilling and Joe Esposito, as well as band members, movie co-stars, and family members including Priscilla and Lisa Marie Presley.
"I got to talk to Robert Plant after he and Alison Krauss played Mud Island years ago," Argo said. "We talked backstage about Elvis and he told me about the time Led Zeppelin met Elvis. They sang with him backstage after his show in LA. That was a great moment, just talking to him. And I have enjoyed getting to know the Presley family over the years from Priscilla to Lisa Marie. I never got to meet Elvis, but getting to know them and hearing from people who knew Elvis or worked with Elvis has been great. It really gives me an idea of who he was."
And while he is still hoping that Ann Margret, Elvis's co-star in the movie "Viva Las Vegas," will one day come to Elvis Week, his other dream celebrity visit that he would like to see at Graceland would be U2 lead singer Bono.
"I would love to sit down with him and interview him," Argo said. "He's a huge Elvis fan. And he is a huge Memphis fan. His daughter's name is Memphis. This city had such an effect on that band when they were starting out. I'd love to talk to him."
Argo said as a Memphian, he's always been an Elvis fan. He remembers going through his parent's Elvis records and listening to them as a child and visiting Graceland with out of town family members when they first opened it up for tours in 1982.
"Growing up here, is there any other way to be?" Argo said. "My parents had the Elvis gospel record. They had the Elvis Aloha record. And I remember going through the mansion when I was little. So I have always been "in" to Elvis."
While he loves all things Elvis, if forced to pick a particular decade of Elvis's career, Argo said he loves the 1950s Sun Record years the best.
"Without that, we wouldn't have all the rest of it," Argo said. "So I would say 1954 and 1955. That's my sweet spot with Elvis."
Argo said Graceland has definitely seen an uptick in visitors since the 2022 Baz Luhrmann Elvis biopic starring Austin Butler came out. The movie has resulted in a whole new generation of mostly younger Elvis fans who are now listening to his music and have taken an interest in his life.
"It has been incredible, the crowds at Graceland since that movie came out," Argo said. "Elvis is such a mythical figure. I don't think until people saw the movie – especially the younger fans – that they realized Elvis was a human being. It really brought Elvis the man into the picture. People since then have been captivated by his story. And as we say here all the time, once Elvis has got you, he's got you. There is no shortage of content once you are into Elvis. So what we are experiencing now is all kinds of people, mostly younger people, who are getting interested in Elvis. And for others, there may be a family connection. Their parents or grandparents were into Elvis, and now they are too, which you don't see with too many entertainers."
Argo said being in the radio studio across from Graceland and seeing all of the Elvis fans, there are a lot of times when he just looks up at the end of the day and has to pinch himself and say 'thank you, Elvis.'
"Like the saying goes, when you do what you love, you don't work a day in your life," Argo said. "I have always loved being on the radio. And being here at Graceland and seeing all of the things that have happened here in 18 years, and meeting the people that come in from all over the world just for Elvis, I don't think I would have ever been able to do all of this if it wasn't for Elvis."
http://www.desototimes.com/news/spinning-elvis-songs-on-the-radio-a-labor-of-love-for-dj-argol
<<<<<<<<<<>>>>>>>>>>
TUESDAY, AUGUST 15, 2023
Let's don't forget that we can view the Candlelight Vigil tonight on the Internet.  Below are the details from an Email that Graceland sent out today.
WATCH THE CANDLELIGHT VIGIL LIVE
TONIGHT AT 8:30 PM CT
Tune in tonight at 8:30 PM CT to watch the annual Candlelight Vigil live from Graceland. Fans around the world are invited to join us via Graceland's Livestream page to be part of this very special evening honoring the life and legacy of Elvis Presley.
Elvis fans, make sure to follow us on our social channels to keep up with the latest coverage from Elvis Week! Follow along for an incredible week full of memorable moments, live concerts, tributes and more – all honoring the King of Rock 'n' Roll!
POST TOMORROW IN HONOR OF ELVIS' LEGACY
This year's Elvis Week marks the 46th anniversary of Elvis' passing, but the love for the King of Rock 'n' Roll lives on. In honor of Elvis' life and legacy, Graceland invites you to write a tribute on social media and share what Elvis means to you using #RememberingElvis & #ElvisWeek.
THERE'S STILL TIME TO BE A PART OF ELVIS WEEK!
Virtual Elvis Week is the next best thing to being here, and passes are still available! All events included in each pass can be watched live and re-watched on demand 10 days after its conclusion!
<<<<<<<<<<>>>>>>>>>>
WEDNESDAY, AUGUST 16, 2023
I have been enjoying watching Flaming Star for this important date…between taking Daisy and Cayce for walks.  This is one of my favorite Elvis movies because of Jesse's very special gift to Tom and me related to Elvis' filming of this movie.  Below is the article which I have posted on this site about this wonderful gift from many years ago.
Everyone needs something to lift our spirits as only Jesse himself can do.  So, I beg his forgiveness for displaying this without discussing it with him first.  He has told me that I am his "baby sister" and anything I do is fine with him.  He is so good to me always.
I will also display the letter that Jesse wrote to Tom and me when he sent this gift.  The name which I have whited out is the man who channels our mail to and fro.  Bless his heart too…he is an unsung hero in all things.
First of all, here is the letter in which Jesse explains what the gift is.  I will let Jesse's words say it all…I need to add nothing to his letter.
Also, as a PS in that same package, Jesse sent me several pieces of his grandmother's (Dodger's) jewelry.  There were 4 pieces in all…I am displaying one pair of earrings below along with his PS on the back of his envelope explaining about the jewelry.
 <<<<<<<<<<>>>>>>>>>>
SENT TO JESSE THRU THIS POINT
ON THURSDAY, AUGUST 17, 2023
<<<<<<<<<<>>>>>>>>>>
WEDNESDAY, AUGUST 23, 2023
I sincerely apologize for my absence here on the site recently.  I began having very bad (worse than usual) hands, arms, and shoulders pain late last Thursday which continued for the weekend.
On Monday we had to make a difficult trip to our brother and sister-in-law's home which is about one hundred miles away.  Our sweet sister-in-law is under hospice care at their home.   The long trip and the emotions took a toll on me and I just haven't been up to par.
Last night
I attempted to find some Elvis news to share here on the site and just couldn't find anything really good.
Tomorrow we will be spending a large part of our day at the hospital with a good friend who is without family and must have someone with her during a procedure which will take a good deal of time.  So, I will be preparing my mail to Jesse today since I won't be home tomorrow for my normal Thursday work.  I will send my mail out while we are out on Thursday.
I do apologize for the break in my routine.  I promise that I definitely will post on here the day that I speak with Jesse again.  I am concerned about him and miss him so much too.
Love, light, and peace to all,
Linda
<<<<<<<<<<>>>>>>>>>>
Good news—really good news!!!!!
Jesse called me about an hour ago and we had a really good conversation.  He was thinking that his phone was going to cut us off and so I was expecting that to happen when it did.  So, I thought we were through talking.  But he did call me right back and we continued our visit.
Jesse is doing pretty well except he has caught a cold.  He said other than that, he has good days and bad days.  He sounded good and strong.  I enjoyed speaking with him so very much as always.  
I am so glad to have such positive news to share with all of my visitors.
<<<<<<<<<<>>>>>>>>>>
THURSDAY, AUGUST 24, 2023
My best friend, M J, sent me an article earlier about the cover of the current TV Guide having a cover story about Elvis in the issue which covers August 14 through September 3rd.  I am sorry that I couldn't get around to sharing this sooner.  It may still be available on the stands.  Great photo of Elvis on the front and on the inside page as well.  My thanks to M J who is always there for me.
<<<<<<<<<<>>>>>>>>>>
My good friend Chris McC shared the below wonderful photo of Elvis with Don Siegel who gave Elvis the beautiful hat from the movie filming of "Flaming Star" which I have written on my site several times.  I told Chris that I thought this photo would make such a nice addition to my article about the hat and Chris agreed and told me that I could post it here to share.  My sincerest thanks to Chris.
Jesse's letter to us when he sent this hat:
<<<<<<<<<<>>>>>>>>>>
SENT TO JESSE THRU THIS POINT ON 
THURSDAY, AUGUST 24, 2023
<<<<<<<<<<>>>>>>>>>>
TUESDAY, AUGUST 29, 2023
My good long-time friend CS shared the below video of a beautiful new song about Elvis.  This is such a sweet song by a lovely young lady.  Larry Strickland is singing with her so that makes it even more special to us Elvis fans.
My sincere thanks to CS for bringing this to my attention.
Jillian Cardarelli – If I Could Talk to Elvis (Official Music Video)
www.youtube.com/watch?v=rvwc9qa1acI
If I Could Talk to Elvis (Official Music Video) by Jillian Cardarelli is out now! Subscribe to my channel to stay up today on future uploads! Written by Jillian Cardarelli, Alex Kline, and Tina Parol Produced by Daniel Dennis, Video by Dusty Barker,
Connect with Jillian —                                                                                                                                     TikTok: https://www.tiktok.com/@jcardarelli                                                                         Instagram: https://www.instagram.com/jilliancard...                                                         Facebook: https://www.facebook.com/jilliancarda...                                                               Twitter: https://twitter.com/jmcardarelli?s=20...
If I could talk to Elvis I hope he'd have all day I'd ask him all about Memphis And that Vegas stage
How'd it feel when he bought his mama that pink Cadillac Coming from the barefoot start of a Mississippi shack I'd make sure he knows, at Graceland, people visit every day
How is it that I miss somebody that I've never met, The years go by but none of us forget He felt like a friend to me and that's just what I'd tell him If I could talk to Elvis I'd him the world remembers every song he sang And that we all really love him and not just know his name He changed a generation with one swing of his hips We dream a little bigger cause of what he had to give Only the good die young they say But I wish he would have stayed
How is it that I miss somebody that I've never met, The years go by but none of us forget He felt like a friend to me and that's just what I'd tell him If I could talk to Elvis
What was it like when you got to those gates Bet you were asked to sing for all the saints How is it that I miss somebody that I've never met, The years go by but none of us forget He felt like a friend to me there's so much I would tell him I wouldn't be me without him Yeah I would thank him If I could talk to Elvis
#country #IfICouldTalkToElvis #countrymusic #femalecountryartist Copyright (C) 2023 Jillian Cardarelli http://vevo.ly/DJAXfW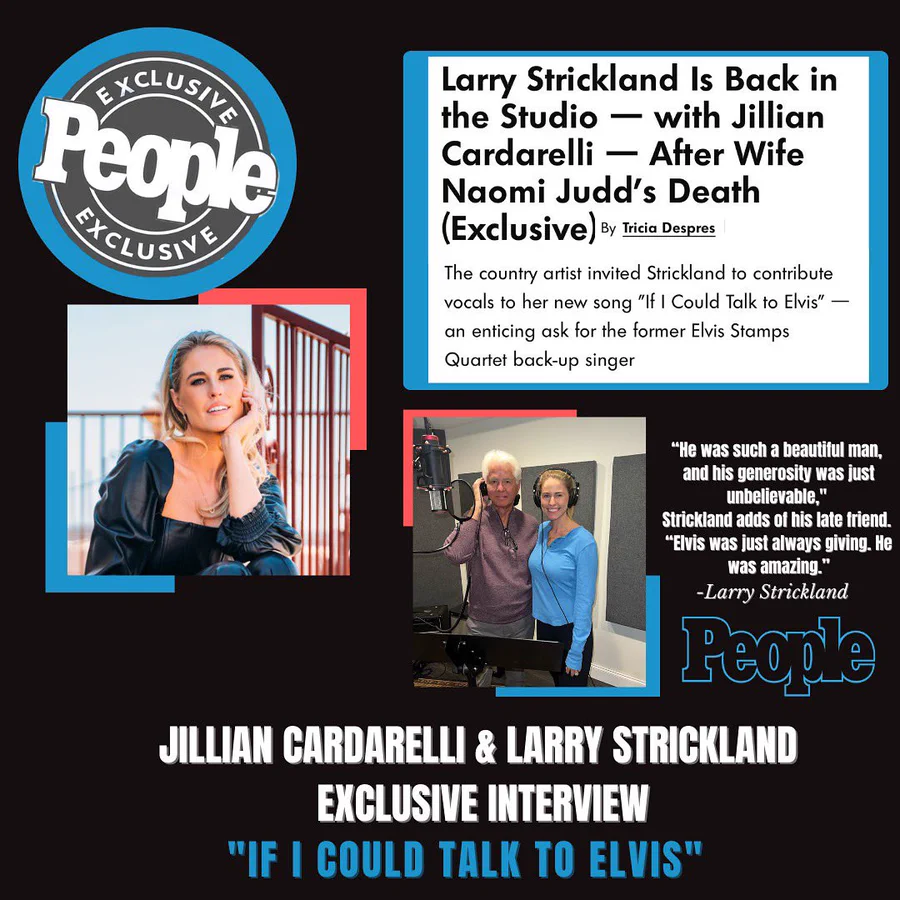 You may visit the below link to vote for this performer and her song

:
<<<<<<<<<<>>>>>>>>>>
WEDNESDAY, AUGUST 30, 2023 / THURSDAY, AUGUST 31, 2023
Two of my longest-time friends MJ and CS shared the below video with me to share on my site.  As my visitors over the past 14 years will recognize, the information contained in this video MOST CERTAINLY IS NOT NEW news at all.
In a thumbnail, which is all my time and pain will allow, I was friends with Gail Brewer-Giorgio way back in the late 1980s and early 1990s.  Tom and I visited Gail's home in Jan. 1990 and she played her tape of the call that she received from Elvis in October of 1988.  I recognized immediately that the voice on the call absolutely was Elvis himself.  In that call, Elvis told Gail that he would send her some "ammunition".  The following spring on Palm Sunday, Gene Smith who was Elvis' first cousin and life-long best friend phoned Gail with that ammunition.  Gail phoned me that night to tell me that Gene had told her that if she had the handwriting on the death report analyzed, it would prove that Elvis himself had handwritten the report.  Gail did have that procedure done and it definitely did prove that the handwriting matched.
I spent some of my limited time late last night posting a comment on the above video on YouTube.  My comment was detailed and I shared it in a polite and helpful manner.  However, I see that the channel owner had deleted my comment which is what happens just about every time, I try to enlighten people to the truth.  I have been a subscriber to this channel for some time now and have watched the channel owner make a number of mistakes.  This one time, I thought that my input would be helpful to all who viewed this video.  I will be canceling my subscription to this channel.
After 14 long and difficult years of just trying to tell the truth to ignorant and foolish people who don't have the good grace to grasp and appreciate all the trouble that Elvis/Jesse and I have gone through to try to share the wonderful news with the fans, I am just about to the point of giving up.  My health is not good and my years left on this earth are surely growing short.  Time will tell…
Below is the photo of myself and Gail in her home; the video of Gene Smith who went to be filmed and to appear in the Bill Bixby TV show with Gail "The Elvis Files"; and the interview with the graphologist who authenticated Elvis' own handwriting on the death report.  By the way, this document was a death report and not a "death certificate".   This error was pointed out many years ago.
Below is a statement by Gene Smith who was Elvis' first cousin and life-long closest friend.  Gene went to the filming of "The Elvis Files" to support the truth being told by Gail Brewer-Giorgio.  Gail asked Gene if he would like to appear in the film and he said he would have to check and get back to her…so it seems that his appearance and statement in the film were done with Elvis'/Jesse's permission.
The below video is posted on my personal YouTube channel.
Linda Hood Sigmon
This clip is from the video "The Elvis Files" done by Gail Brewer-Giorgio.
This is one of the most compelling pieces of evidence that Elvis did definitely carry out the plan to fake his death.
ELVIS IS ALIVE – ELVIS FILLED OUT HIS OWN MEDICAL EXAMINER'S DEATH REPORT HANDWRITING ANALYSIS
COPYRIGHT LINDAHOODSIGMONTRUTHCONTD.COM MAY, 2009 – 2023 ALL RIGHTS RESERVED. THIS COPYRIGHT COVERS ALL OF MY ORIGINAL MATERIAL CONTAINED ON EVERY PAGE OF THIS WEBSITE.